First letter of the President to the members of the Minoan Energy Community.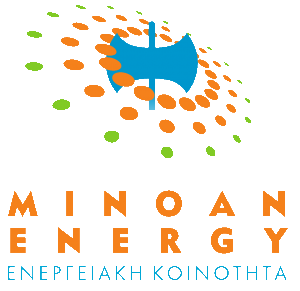 MINOAN ENERGY COMMUNITY                                                                                            Arkalochori, 19/1/2020
Eleftheriou. Venizelou 183, Arkalochori 703 00, Crete
e-mail: info@minoanenergy.gr
URL: https://www.minoanenergy.com/
First Letter to all Members
Dear friends,
I wish from the bottom of my heart to all of you, happy new year with personal and family happiness, strength and creativity.
Launching our first electronic communication, I would first like to thank you for your important contribution to the great effort that we have all undertaken together and then to inform you about all the issues that concern us, as some have been resolved or are resolved and others require everyone's help to complete.
Specifically:
1. Our office has been prepared and will be in operation from Tuesday 21.1.2020, at the address Eleftheriou Venizelou 183 Arkalochori
2. The website of our Community, minoanenergy.com, is ready, although it is still being improved, which we must all visit daily. Your suggestions and remarks can be extremely helpful and we look forward to making it better.
3. New member registrations continue at a rapid pace and with the operation of the office and the website they are expected to take off. At the moment our members exceed one hundred.
4. The international networking of our Community is also progressing well, as it becomes a member of both "Clean Energy For EU Islands" initiative and European Federation of Citizen Energy Cooperatives, REScoop.eu
5. What is urgently needed by all members is to bring us their electricity consumption per meter, per year for the last three years. This is to calculate and agree on the amount of participation of each member in the first net metering project, so that we can ask for the appropriate power. Anyone who has difficulty in presenting their consumption, let them contact us. Email is a great way, as is the telephone. It is urgent to properly plan our first and critical project!
6. On 20.1.2020, Monday, at 7 p.m. at the Cultural Multicenter of the Diocese in Arkalochori, there will be an informative event for traders and professionals, but also for citizens who have not been informed so far. It would be good to inform acquaintances and friends to come. It is understandable that our presence is also very useful.
7. In addition to the above, an event is planned at the Chamber of Heraklion on 29.1.2020, Wednesday, at 6:30 pm, for which we must also inform our people who live in Heraklion. There will also be an event in the municipality of Asterousia - Archanes and in the municipality of Viannos, the dates of which we will inform you soon.
8. An extraordinary general meeting is also planned, about which we will inform you in time. Finally, I once again invite you to inform all our fellow citizens about the aims and objectives of our Community, as well as about the great benefit that it will have from them, both the place and the environment in general, and the great economic benefit that will has each member from its participation.
Do not forget that your opinion is valuable for the progress of the Community!
Sincerely
Charalampos Giannopoulos